Story Path helps you beat writer's block and to develop new stories
By Brad Dehnert
Stuck on where your plot will go next, or have a story idea you need to flesh out?
From only a brief description, Story Path generates branching options for your plot.
We've been developing our new sister-site StoryPath.app since last year and have been refining its use with the help of several terrific beta testers, and we're finally ready to announce it to our wider writing community!
StoryPath.app is an AI-powered system that takes into account your genre, characters, and any world and plot details, analyses them, then gives you back several branching options of what might happen next. These aren't canned responses spit out at random; they are crafted from your existing plot with enough twists and turns to keep things unique and interesting.
Vampire Nova: A Shattered Galaxies Short Story from WG Arndt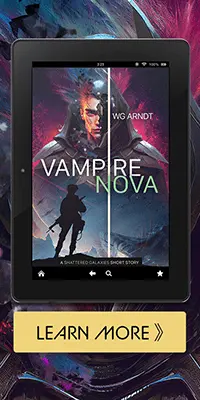 Limited-time 25% discount exclusively for SceneOne blog readers!





Amazon & Goodreads️
Three women with a thirst for vengeance trap an interstellar vampire on a barren moon. Can guts and determination—along with a little celestial mechanics—defeat the ultimate evil, or will the hunters become the vampire's latest victims? Buy the short story now!
Add-coupon code at checkout for 25% off: SCENEONE25
I'm personally really excited about this new app and have fed it the details of my own finished manuscripts (the ones I've kept in a drawer for a while because I knew there was something missing from them). Story Path didn't come up with the same plots as I did (which it shouldn't as it's supposed to give me several branching options) but it did give me new perspectives on possible character motivations, as well as events and sub-plots that could fit duller parts of my stories, or make other sections stronger.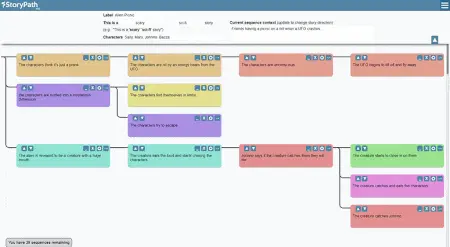 Even if I don't end up using any of the beats Story Path gave me, it still helps get the creative juices flowing. As we discussed in this blog post on beating writer's block, staring at the blank page only makes the problem worse, but writing anything (even words you won't end up keeping) helps you kickstart any creative session and find your groove. Story Path is perfect for this as it gives you multiple ideas to start with, and condenses down several ideas into clear paths to follow. Or not as you can always edit the suggestions it gives you or insert your own half-way through a path.
For more details (including a detailed FAQ) you can check out the StoryPath.app website directly, or peruse our YouTube channel. (You may even find a few ways to try Story Path for free!)
Happy writing!
---
Posted in New Features on 2022-04-10 11:03:35
- writer's block,GPT-3,machine learning,artificial intelligence, ml, ai, story generation, plot generation,book writing software